Jari Puuska, the founder of Kiekkobussi/Hockey Heaven fell in love with ice hockey as a kid. He already had another hobby beside the actual sport - he bought hockey sticks from his friends and sold them further at the side of the field. It was the beginning for the idea about Hockey Heaven. From the side of the playing field, they began selling out of a bus and they own properous a brick-and-mortar store and a webshop.
Behind the business there is a bigger reason: Jussi wanted that everyone is able to play hockey. Re-used accessories are cheaper and especially for the youngsters this is a perfect way to get the accessories without paying a fortune. Hobbyists bring they unnecessary and small stuff to the Hockey Heaven and those are circulated further from the store in Tampere and online.
Buying is made hard when the service provider does not get the idea about the game.
Hockey Heaven opened their web store a few years ago. Founding an online store was seen as the only path to growth and internationalization. On the other hand, the physical store supports e-commerce and Hockey Heaven's business idea: customers can easily bring the goods to the store.
It has been quite a rough work to set-up a webshop and a physical store. There are several service providers and options but buying has been made intriguingly rough. The entrepreneur - the buyer, does not understand the technical jargon and on the other hand, almost all service providers do not understand the customer's business and needs, says Hockey Heaven's Business Manager Mia Puuska.
"This was felt bitterly when our e-commerce platform and ERP system did not work in sync at all. Inventory balances were not in sync, we were overselling so we needed to recall and apologize." There was a huge amount of work hours and nerves in the handling of orders and in solving the stock holes.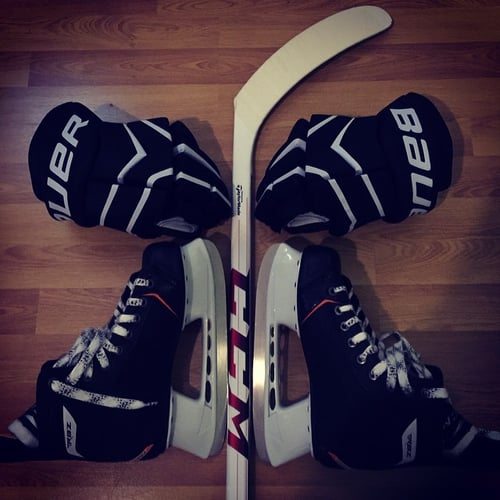 For Hockey Heaven the sync between webshop and physical is a must.
The trade-off at Hockey Heavens business is that they sell both new and used goods. Most of the goods are only one item available and when the product is sold, the same item will not be replaced. These issues make Hockey Heaven's core processes heavy because the inventory is fast and the stuff has to be treated a lot.
When a product is sold from physical or online, the balance goes to zero. This information needs to be updated immediately on both sales channels, ie online store and ERP (where the store's cashier runs).
After that big disappointment, we introduced the epages webshop, which is integrated with Lemonsoft by Flashnode. Physical sales, order processing and inventory management are done in ERP, online sales are handled in epages. With Flashnode, the balance between inventory and e-commerce is updated almost in real time, and this has worked well for us. Thanks to these changes, inventory turnover has accelerated considerably: we get products to sales and sold at a rapid pace. Our work has become considerably intensified and, above all, the number of errors and extra work is minimal, Mia says.
Read more about epages and Lemonsoft and their integrations.
Hockey Heaven's team is still hungry for more - international
Of course we would not do this if we did not want to grow and become international, Mia says. We are constantly thinking about how to improve Hockey Heaven's core and support processes to increase sales.
Sure there are challenges and bushfires all the time. One of the busiest terms in our business is that new goods must be constantly available - how to make better use of the internet to buy goods and how to reach new sellers is a constant topic of thinking and development, Mia says.