Two very early starts on Wednesday (around 3am from Jyväskylä, Finland and 4am from Frankfurt, Germany) with flights, trains etc, and one normal start around 7am in London, and we were there: Flashnode visiting eCommerce expo in London.
The purpose of our visit was to get a feeling about the eCommerce platform providers, agencies and the actual eCommerce merchants and their views and opinions on fully managed integrations.
Are the challenges in the British eCommerce industry the same as they are in Finland?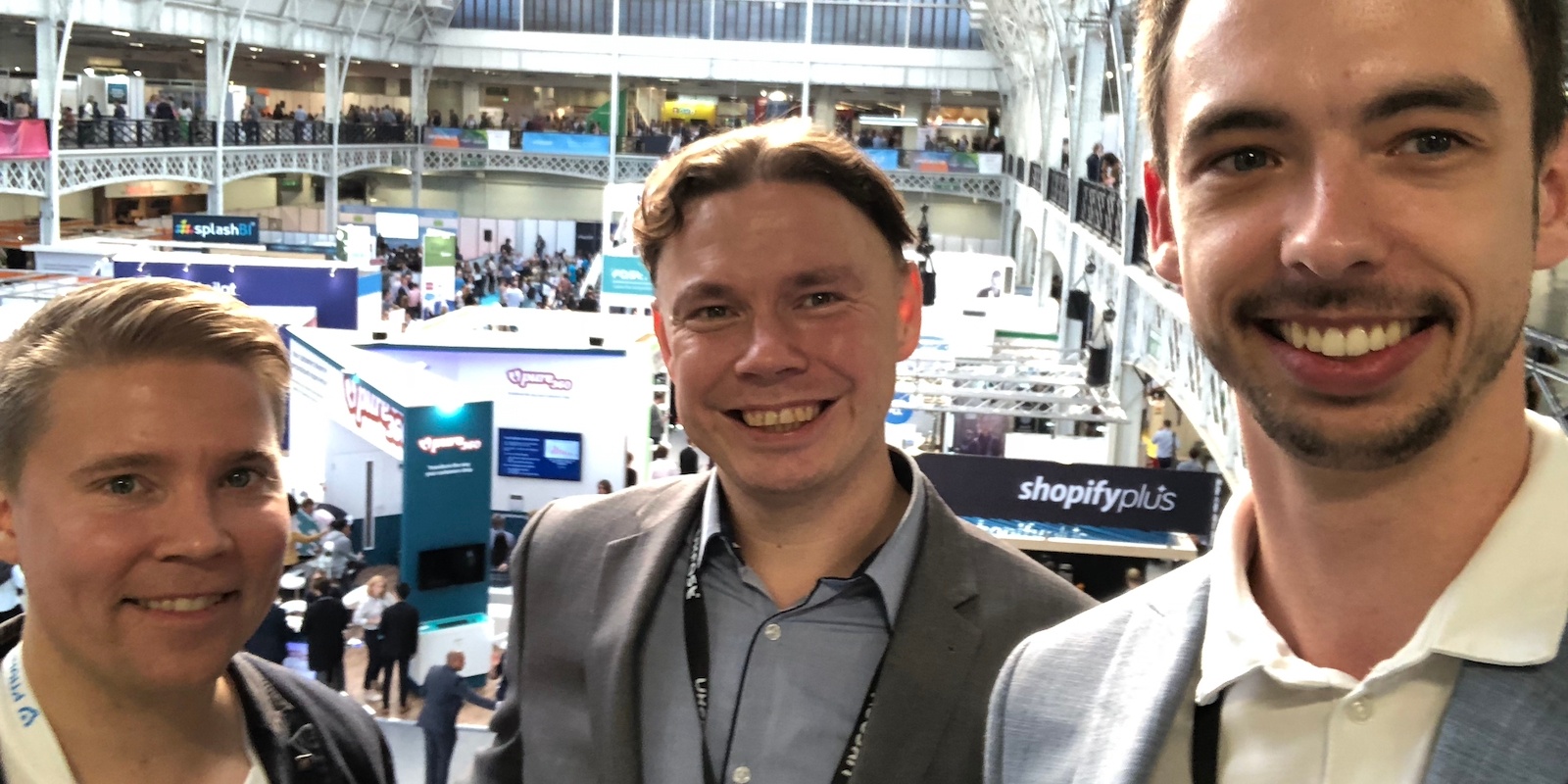 Integrations are needed more than ever
Both days started in a modest VIP lounge with some coffee and snacks while planning the day ahead of us. On the first day our focus was to talk with actual eCommerce merchants and a few eCommerce agencies building the shops for the merchants.
As our business is pretty much based on the theory that integrations and the automation of business processes are considered important by the SMBs, it wasn't a very big surprise to hear almost from everybody that their business would clearly benefit from additional automation.
Still, we were positively surprised that so many businesses are already moving towards the benefits of actually having up-to-date stock balances, synced product data and automatically transferring orders from the eCommerce store to other systems the companies were using.
The eCommerce merchants seemed to have the challenge of not knowing where to start and who to ask for an advise. Luckily many eCommerce agencies had seen the chance to serve their customers better and were offering help to use available integration services (or plugins for more simple cases).
Chance to meet eCommerce specialists
Big parts of the audience were eCommerce professionals with titles like CMO, Head of eCommerce, Account Manager, Sales Executive, eCommerce Manager, Customer Success Manager, etc. Titles you could expect from an eCommerce fair. So, if you aim to speak with some merchants, eCom agencies or online marketing offices, you should visit the fair in 2019. We'll make sure to participate again as well.
Keynote speakers and the exhibitors
To be honest, we didn't have time to attend every talk but the people we met seemed to be happy with them. It would have been nice to have the time to listen to concrete examples, but unfortunately that wasn't the case this year. The floor itself was a buzzing mix of online marketing, adtech and eCommerce solutions.
The list of the exhibitors was impressive, for instance:
eCom platforms (e.g. Shopware, Magento, Shopify, BigCommerce..)
eCom agancies (e.g. We make Websites, Crehler..)
Adtech companies (e.g. Pure360, Campaign Monitor..)
Online marketing agencies (e.g. Web Behaviour Specialists, Colewood..)
Content Marketing Offices (e.g. Inbox Insight, Vertical Leap..)
Logistics, fulfillment & warehousing services (e.g. Åland-Post, Seven Senders...)
The list goes on.
The whole expo was joining the forces with AdTech & Marketing Technology fairs, so the variety was excellent. There were also some creative ideas to attract the visitors - like catching flying balls, VR experiences, massages and free beer.
Key Learnings from eCom Expo 2018
For us, a company offering 100% managed integrations (meaning everything from process mapping & consulting to actual setup and monitoring services with support and updates), the biggest takeaway was to understand that the eCom merchants in UK are struggling with the same challenges as their peers in Finland. Perhaps a bit more focused on stock balances and product data and a bit less on order data, but still exactly same challenges that we've been solving for Finnish SMEs for almost 5 years now.
For us the visit was really encouraging. The need for managed integrations is there and the merchants & agencies are looking for expert help. We're happily looking forward to continue the discussions over the course of the upcoming months!