Entrepreneurs live a passion for something particular. There's something which fascinates them - and very rarely it's software. Yet, there's so much to achieve with the proper tools. Shopify is a brilliantly easy-to-use app but you need the right external touch to maximize its potential.
Wordpress. Everybody has heard of it at least once. Many have tried it. The company claims to host every 4th website worldwide. When talking with webshop owners I often hear that they started off as a small blog or even a personal journal about their hobby. They share a very particular interest with a small, regional and growing community.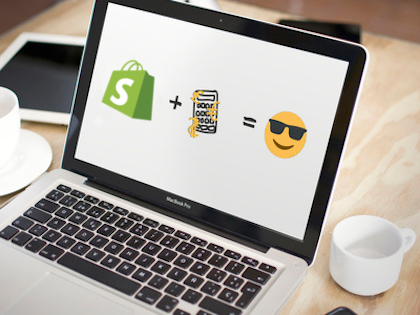 Niche hobbyists have a hard finding this one place where they get all they ask for. In many cases, the enthusiasts look for a place to gather ideas and share tools, gadgets, stories and tips with others. It's a natural and subtle process. One day the bloggers become entrepreneurs and their journals become webshops. They gather and sell all the tools in one place. On a meetup in Frankfurt, I met this woman selling equipment for and from medieval fairs. She told me:
"Building a Shopify store was as easy as setting up my blog back then when I started."
After a few minutes it's up and running. You are able to build landing pages, create products with multiple variations and even a quick and simple checkout experience is just a few clicks away. But sooner or later you face the truth, there is no such a thing as the perfect system alone - Not even Shopify! Once you got familiar with everything, you quickly realize that something's missing.
You didn't reach the full potential of your shop yet!
With additional software any webshop can be enhanced. A live chat, more payment provider and a little helper for your newsletter or email marketing are just a few examples. There are numerous articles and lists out there stating "the best", "the most popular" and whatsoever apps for your Shopify. Every shop owner has his/her favorites and suggestions which suits for their business.
When their business grows, entrepreneurs can't avoid certain types of software. First and foremost, I'm speaking of accounting systems. The first orders are easy to handle in loosely organized tables but right when you reach a couple more of them, a reliable accounting system is a must to keep all the taxes and accounts in order. Likewise, a fast and reliable POS system is necessary when the first local store opens. All the stress and unnecessary work taken away from you outdo the low costs of an easy-to-use POS system.
A big advantage of Shopify is their own POS software which seamlessly works together with online shops. However, not every business may use it. Just a couple of days ago, a Berlin businessmen told me about his sorrows. He's selling foods and specialties. Most of his products are priced by weight and sold in uneven and varying quantities. Shopify POS cannot handle such information. The structure is too rigid for this use. Product categories like clothing work perfectly fine.
Nevertheless, third-party systems are required to supplement a Shopify webstore. The systems often don't have direct connections. Those connections are called native integrations. Luckily, this issue can easily be resolved with Flashnode. We give the enthusiasts more time to dedicate to their fascination. Whatever hobby or passion you have, by becoming an entrepreneur you didn't become an instant software expert. Let us handle the mess and get in touch with us now.
In case you still want to know the details. Keep reading and I'll tell you what happens in the background.
Accounting
Orders and Invoices are basically the same thing. For every order registered by your online shop you have to have an invoice in your accounting system. As soon as you use the same SKUs in both apps, everything works smoothly. When a customer places an order on your Shopify website, we automatically create an invoice in your accounting app. If the product or the customer doesn't exist in your accounting database yet don't worry. We import it for you. Your inventory levels are updated as well. I know how frustrating it can be to input new supplies into your Shopify system. It's much easier in accounting! You can do it over there and we fly the new numbers over in no time. So that your online shoppers always see how many are really available. Accounting made simple - with Flashnode.
These are the most popular Shopify - accounting integrations:
Point of Sales
What was first the local or the online shop? The hen or the egg? Every business owner can answer this question for him- or herself. When it comes to measuring your stock balances and keeping both customer groups happy, it doesn't really matter. They are all buying from you. So technically they "move" in the same sphere. They browse through your offers, they hunt for bargains and they order. The only differences are in the guidance they receive and the checkout process they complete.
A Shopify - POS integration saves you from customers fighting over the same item. When a customer buys in your local store, his order is noted in your webshop as well. This is not that impressive by itself and mostly helps to keep an overview after a busy day at the store. What is linked to the orders is more important - products and stock balances. The amounts of items you sell personally are automatically deducted from the quantities available online. To expand your product range simply add the new product to your Shopify and we make it available in your POS system before you get to your cash desk again.
See what you can do with Shopify and this popular POS system: