Flashnode is an IT-startup, founded in 2014 in Jyväskylä (Finland), by three serial entrepreneurs. We at Flashnode are building an ecosystem of compatible softwares, a network of solutions that can be connected easily. We will change the way how integrations are done and make the data flow seamlessly between a different kind of softwares. In our visions Flashnode is neither more or less, the Google of integrations.

As a result of growth and internationalization there is more and more to do and we are need a couple of further PHP-developer´s to strength our technical team.


We are automating the processes of SMEs related finances/accounting by connecting accounting softwares to the other softwares the companies are using. Our goal is to make the world´s most used systems compatibel with each other, and refine the deployment and user experience to the maximum. The market potential is growing exponentially and we have great investors to back up our plans while aiming to the global markets. We can say we have already conquered the Finnish market and conquering the world is well underway.

You

We are looking for You - the one who gets excited about leaving your footprints to the world of integrations fundamentally. As a developer you play an extremely important role in the quest for world conquering. Tuning and expanding our SaaS service technology is the main thing you'll be helping us. With you (and the other developer we will hire) our tech team will grow to four great personalities. Our offices are located in Jyväskylä & Helsinki in Finland and Frankfurt am Main in Germany.
We are looking for a person with strong knowledge in PHP with some experience about MySQL. Knowledge about Full stack is not bad, but our main need is clearly in the backend. Beside of strong PHP expertise we appreciate your skills for getting to know new things quickly. We also value conversational challenging and great opinions which you relate to trends and practices.

These we love: #PHP #MySQL #queuebasedscheduling #HTML5 #JavaScript #OOP #SOAP #REST #XML #JSON #API - hope you too!

Your main focus is to make sure that our integration services technical architecture enables different kind of information systems to be connected seamlessly. You take care that things in the roadmap are done in schedule and in high quality.

In work you are agile, iterative and goal-oriented, but if needed, you are also able to drive us forward. You are familiar with agile developing (scrum). You are capable of working independently, value team work high. Because we are working freely from different kind of locations all the time, we appreciate that you know the value of communicating with others to prevent problems.
If your history includes experience about integrations or planning interfaces, class-based systems and knowledge or experience in string-based systems we will see those as a plus. If you know algorithm planning you will have a huge plus. The addition of the outsourcing know-how and experience will increase our faces yet one more smile. We will also notice with happiness your previous experience wrestling with financial management programs, online retailers or ERP.

Your English should be as good as your PHP, as English is our official language. Extra points are given from further languages, preferrably Finnish, German and Swedish.
This is who we are
Flashnodes culture is based strongly to "lean startup" -philosophy, freedom and responsibility. We want to be innovative and creative- the best place to work for everyone who enters the team. We are continuously trying new (and failing too) to keep our processes optimized.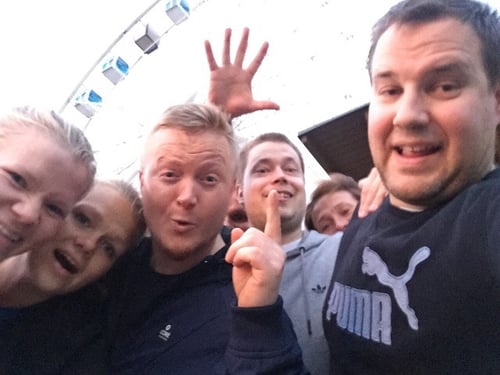 At Flashnode we are real and team is awesome. We breath software integrations and eat them as a lunch. In our company you get to work with full speed right from the beginning and you will be given responsibility as much as you want. Barrier to try new things and implement your ideas is really low, so everyone gets their handprints to appear. In our company we give direct feedback, we also love our weird humor. These are kind of a basics with which we get through the more intensive times and how we celebrate the small winnings. Learning by doing - as said.

In our company we don´t build our positions based on age or background - it is done by the right attitude and doings. We are recruiting experts who tells the company what to do - not the other way around.

How to apply?

If you get exited about us, let us get exited about you. Send us a package which shows us your attitude, enthusiasm and tools with a hints of your history that are important. Send your application to hellocareer@flashnode.com today with a headline "PHP developer". If you have questions or want to know more, don´t hesitate to contact Jani Karhunen by phone +358 44 776 7828 or email jani.karhunen@flashnode.com

---
Thanks for every applicants, we are happy now with our new developers!