It's unfair to say all webshops are the same - especially when it comes to the front-end design but at least all online shops have the same chances to look beautiful. Store owners may purchase ready-made templates for their sites or hire a design agency to create a custom design. Behind the scenes however, every eCommerce software looks entirely different.

WooCommerce is one of the most popular webshop apps. There are various reasons for this. One of which is the 0 to small price. Another and perhaps more striking reason is that it was specifically developed as an augmentation for Wordpress websites. The well-known giant states to host a quarter of the internet.

In an ideal case, you launch the webshop together with the website - perhaps using the opportunity to redesign or restructure the current layout. If you're interested in reading about the challenges other entrepreneurs faced with their Shopify store follow the link below.

Here I continue to focus on WooCommerce. As indicated above, WooCommerce is especially designed for Wordpress. In fact, you need to have a Wordpress site to run a WooCommerce store.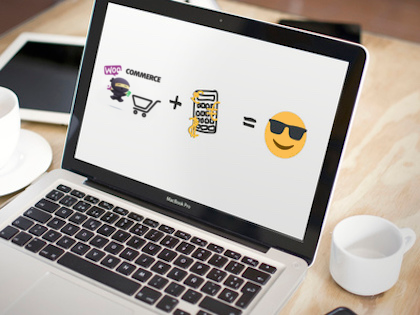 Hence, the back-end of your webshop is part of your Wordpress admin section. The interfaces all have the same layout as the standard Wordpress menus. The overview of your orders resembles the list of your pages and viewing the details of a single order looks like the page editor you use when writing blog posts or managing your landing pages. Confusing right
Yes, WooCommerce is free of charge and only installing an exclusive theme may cost you a small fee but this advantage comes at the expense of more manual work. It's only a few clicks here and there. The difference is not that significant but go through the whole process of handling an order.
You need to open your admin panel, navigate to WooCommerce. Then, view your recent orders and select the one you want to take care of first. You recheck all the order data, open up your accounting app and start typing the order into the other system. Then you start with fulfilling. You print the packing information, perhaps an invoice as well and after actually composing the shipment, you need to open a shipping label printer, eventually type in the customer data again and then print the label.
Of course no matter how good your processes are you can't automate everything. Even Amazon hires people for that but there are some things you can automate: copying order data to accounting for example, or synchronizing your inventory levels between your point-of-sales system and your eCommerce. No matter what you want to start with just contact us today and start speeding up your WooCommerce business. It works just like Wordpress plugin in the background. Once setup you don't need touch it again. It just works. As soon as a customer buys something in your webshop, your accounting system automatically registered an invoice for you - with Flashnode.